The global wood production is experiencing an obvious revival
le Friday 18 December 2015

The latest data on forest products released December 18 2015 by the FAO (Food and Agriculture Organization of the United Nations) show a continued rise in production growth since the 2008 crisis.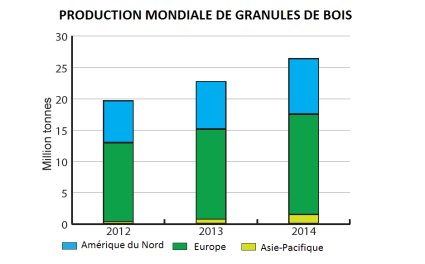 Nouveau record de production de granulés à base de bois
FAO
The report published by the FAO summarizes the production of the main wood-based products and the import-export flows. It shows that Europe, including the Russian federation, remains the largest producer of industrial roundwood with 31% of worldwide production. Europe and North America are the largest exporters of industrial roundwood. 
The 2014 data highlight several significant elements: 
The world production of wood pellets is set at 26 million tons per year, with 16% increase compared to 2013. Europe is the leading producer and importer of wood pellets. 
The panels increased by 5% and timber by 4%.
The worldwide paper-cardboard production slightly increased (1,3%) but regressed in Europe. 
The production of paper pulp also increased by 1%. It remains stable in Europe and is significantly growing in South America, particularly in Brazil. 
Lire l'article source
Last update Thursday 17 March 2016
---