FOREDAVENIR: invest to improve the quality of wood chips
The territorial diagnostic of investment in equipments of FOREDAVENIR project has just been published by FORET LOGISTIQUE CONSEIL. It emphasizes the importance of providing sufficient activity to existing equipment and invest in improving the quality of wood chips.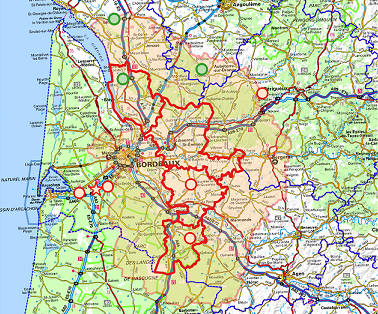 Energy wood platforms listed by FOREDAVENIR
Map: IGN Scan1000
The territorial diagnostic equipment needs investment of FOREDAVENIR project shows that the means of mobilization exist and that their use must be optimized to consolidate the activities of long-term businesses. These have indeed specific resources that require high investments. It is important that the wood energy business offers them sufficient volume to achieve their profitability thresholds. The mobility of businesses and activity rates show that it would be appropriate to encourage operators to increase their production capacity. If there are material investments to consider in the FOREDAVENIR project, they should be clearly oriented towards improving infrastructure and resources to improve two points:

1) control of the quality of wood chips, regardless of their category;

2) supply logistics boiler, taking into account the urban context in which most are located: 80% of demand in 2017 woodchips come from Bordeaux metropolis.

The means to achieve these results may be different. Investment in platforms in part, improvement or renewal of existing equipment with more "qualitative" material also. The organizational aspect should not be overlooked, the optimal use of resources is very important for the optimum use of their capacities.
We also suggest
FOREDAVENIR, improving 1400 hectares of forest in 3 years: investigating the means of wood mobilisation in eastern Gironde

In 2015 ADEME (French Agency for the Environment and Energy Management) launched the call for expression of interest « DYNAMIC wood » to finance additional wood mobilisation actions through the rehabilitation of degraded stands. In this context, the FOREDAVENIR project was selected in ALPC region (Aquitaine-Limousin-Poitou-Charente), and will take action in the eastern Gironde rural territories (Blaye, Libourne, Entre-Deux-Mers, Bazas). Actions for raising awareness of forest owners will be implemented to encourage the emergence of forest plot improvement projects and wood mobilisation. The aim is to bring back into production and maintain 1395 hectares of private forest stands (mainly hardwood), by exploiting an additional 160 000 tons of wood by 2018, about 100 000 tons of which would be energy wood. In February and March 2016, and in conjunction with representatives of the profession, a consultation will be carried out on the means of energy wood mobilisation. In this context, FORET LOGISTIQUE CONSEIL (Richard EMEYRIAT) is responsible for conducting a survey on the specific ways of producing wood chips (feller-bunchers, grinders, screens, platforms). This consultation takes place in confidential settings, and only the overall results will be made public. At the end of this survey, you will be invited to a presentation of the investigation findings during a seminar which will take place by the end of 2016.

Read more
---